We now offer Express Delivery Service. We know that "Timing is Everything" especially when it comes to sending flowers. We want to be your Central Ohio quick response gift giving partner when it matters most. We offer four different types of express delivery services on top of our same day regular delivery service.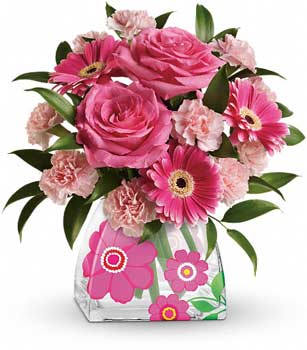 Next Day Express Service before 2pm - $14.99
Next Day Late Day Service after 2pm - $14.99
Orders must be placed the previous day or earlier.
Same Day Express Service in 3 Hours or Less - $19.99
Orders must be placed after 12am and before 2pm.
Same Day Express Service in 2 Hour or Less - $29.99
Orders must be placed after 12am and before 3pm.
Late Day/Same Day Express Service. $29.99
Orders placed after 2pm and before 3pm.
When choosing an item, look for the Green Express Service Delivery Van and choose the Express Service that meets your needs.

We don't offer Express Service for the following gift items:
Fruit Baskets, Baked Goods, Wine, Tropical Flowers, Blooming Plants, Throw Blankets and Stepping Stones.
They are available for same day delivery however.

Express Service is available for the following zip codes: 43201, 43202. 43203, 43205, 43206, 43209, 43210, 43211, 43212, 43213, 43214, 43215, 43219, 43221, 43220, 43222, 43224, 43227.

Other zip must be approved by a sales person in advance, if not we will do our best to make it happen for you.

All Express deliveries will receive a prompt email confirmation upon delivery as part of the service.
If no one is available to receive the package, we reserve the right to leave all express deliveries at the recipient's location.
Express service is not available on weekends or during major holidays.