Designers Choice wrapped bouquet of flowers in a variety of colors, delivered to any home or business in the following zip codes listed above for just $30, delivery is included in the price! For Local Delivery Only. Each week the bouquet will change in types of flowers and colors. Delivery Available Only on Thursday, just in time for the weekend! Send one as a gift, or treat yourself to one or better yet, do both! There is a limited number of bouquets available each week, once it is sold out, it's finished for that week! The cut off time to order your bouquet is 12pm Thursday the day of.
All prices in USD ($)

Due to an increase in the cost of roses, some product prices may be impacted during the Valentine's delivery period.
$30 Thursday Zip 43201

30-43201

$30 Thursday Zip 43202

30-43202

$30 Thursday Zip 43203

30-43203

$30 Thursday Zip 43205

30-43205

$30 Thursday Zip 43206

30-43206

$30 Thursday Zip 43209

30-43209

$30 Thursday Zip 43210

30-43210

$30 Thursday Zip 43215

30-43215

$30 Thursday Zip 43227

30-43227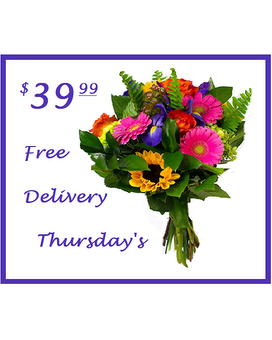 $30 Thursday Zip 43201 - $30.00
$30 Thursday Zip 43202 - $30.00
$30 Thursday Zip 43203 - $30.00
$30 Thursday Zip 43205 - $30.00
$30 Thursday Zip 43206 - $30.00
$30 Thursday Zip 43209 - $30.00
$30 Thursday Zip 43210 - $30.00
$30 Thursday Zip 43215 - $30.00
$30 Thursday Zip 43227 - $30.00